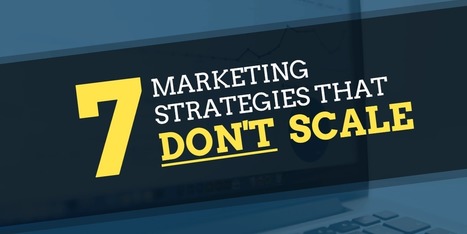 Looking for the next growth hack? Stop looking. Try these 7 marketing strategies that don't scale instead.
Growing up, I was a really small guy. So after I finished high school, I was eager to hit the gym and pack on some muscle.
As I began lifting weights, I found myself surrounded by people way bigger than me. So in an effort to speed up my progress, I tried to lift as heavy as I could. I also started taking a bunch of supplements I didn't need. I kept trying to get big fast.
My initial results? Abysmal.
Then a friend of mine said something that changed everything.
Chris… just focus on adding 5 more pounds to the bar every month. If you can do that, you'll be able to lift 60 more pounds than you can today.
He was totally right… Within less than 2 years, I brought my bench press up from 65 lbs to 135 lbs.
Believe it or not, this same thinking works wonders when applied to business. Getting one new customer a day doesn't sound like a lot. But when you stack that up over an entire year, you'll have 365 people paying you money.
So rather than thinking about how to get 365 customers, start by just getting one. Then another. Then another.
Doing things that don't scale... Read more: click image or title.
Get your Free Business Plan Template here: http://bit.l/1aKy7km
Dave,
Your BP template help me achieve the goals I've been trying for 5 years. The template led me to produce an effective tool to attract the investors I need.
Thanks
Robert