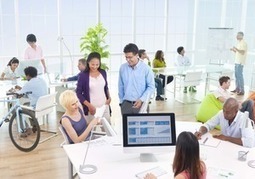 Michael Rainsford discusses how his start-up company developed in a shared office space, and reveals the benefits and downsides of such a setup for an early-stage company.
When my company StuRents.com went full-time back in June 2014 we were looking for the perfect environment in which to grow our semi-established start-up, and when we stumbled across the newly-established Google Campus near London's Old Street, we also stumbled across the idea of the 'tech incubator' (essentially an office space housing tech start-ups). We liked it and we applied for a few desk spaces, which we were subsequently offered at a relatively cheap price.
It seemed like the perfect setup for us and six months later we graduated to a different incubator within the city. But those six months at Campus had been good for us. Growing in an incubator we found to definitely have its upsides.
Firstly, most incubators are cheap. Most tech incubators (as with any place providing facilities for start-ups) are likely to offer cheap rental rates. But compared with other venues offering facilities for fledgling businesses, Google Campus offered all inclusive rates, mentoring and access to the heart of Tech City. These fringe benefits are often, in the cases of incubators, the main benefits, when all you are actually using the building for is working – with no time or inclination for creature comforts.
Many incubators also seek to keep themselves at capacity by offering flexible workspace with pay-as-you-go style pricing. At Campus these spaces were remarkably cheap; arguably too cheap. Given the limited number of spaces available, for every developer on Flex membership paying a little over £100 per annum there were tens of eager entrepreneurs (who would have contributed much to the culture and atmosphere) waiting in line for a spare desk.
Read more: http://snip.ly/OOG4
Get your Free Business Plan Template here: http://bit.ly/1aKy7km
"I recommend that all professionals, entrepreneurs, and students of business tune in to Dave Lavinsky.

Sincerely,"
John Meria, Ph.D.
Via
Zonata