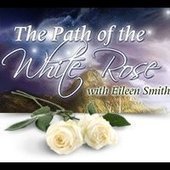 News, information and action links to empower people and the planet with tools for transformation. Please Click 'Follow' to receive updates.
Eileen Anglin, Energy Artist, Life Coach, Reiki Master, author, teacher and Earth Activist. Founder of The Path of the White Rose® LLC.
My life's work is to create tools and insights to empower you and elevate your life and how you experience it.
The Path of the White Rose LLC is my website for my angelic energy art and downloadable meditations, lectures and healing sessions. www.whiterosepath.com
You can purchase my original angelic art and prints channeled from the Higher Realms. Nominated by the New York Times About.com "Readers Choice Favorite Angel Intuitive 2012 & 2013"
http://fineartamerica.com/profiles/eileen-anglin.html ;
http://whitefalconarts.bigcartel.com/

I have created online Tools For Transformation in my White Rose Store. CD's, MP3's, lectures and archived radio shows are for sale and immediate download in The Store section.
http://whiterosepath.com/store ;
I also work as a life coach based on the work of Debbie Ford. Coaching that guides you through dismantling the blocks standing between you and your best life.
As an Earth Activist, helping to awaken our evolving humanity, calls to progressive and compassionate action for the blue jewel we live on.
I look forward to assisting you on your healing journey and path to wisdom.
Eileen Anglin & The Path of the White Rose LLC
Official Website:
http://www.whiterosepath.com Online Tools For Transformation: MP3's, Angelic Meditations and more at the White Rose Store:
http://whiterosepath.com/store
Angelic Energy Art:
http://fineartamerica.com/profiles/eileen-anglin.htmlhttp://whiterosepath.bigcartel.com/
Angel Blog:
http://whiterosepath.wordpress.com
Facebook:
https://www.facebook.com/pathofthewhiterose
;