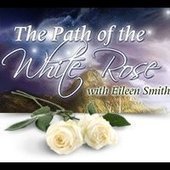 News, information and action links to empower people and the planet with tools for transformation. Please Click 'Follow' to receive updates.
About The Curator:
The Path of the White Rose with Eileen Anglin. Angelic Energy Art, messages, meditations and classes to empower, heal and elevate your life. Sign Up For my Newsletter. http://eepurl.com/Qlc0L
My energy art work reflects the power of transformation, healing and inspiration from our connection to Divine Source and our spiritual connection to Nature and animals.
I have created online angelic tools for transformation in my White Rose Store. CD's, MP3's, lectures and archived radio shows are for sale and immediate download in The Store section.
http://whiterosepath.com/store
My life's work is to create art, tools and insights to empower you and elevate your life on the planet and how you experience the highest vision of it.
As an Earth Activist, helping to awaken our evolving humanity, calls to progressive and compassionate action for the blue jewel we live on.
I look forward to assisting you on your healing journey and path to wisdom.
Eileen is a internationally recognized angelic energy healer. Her healing work has appeared in books, TV, radio and has won awards for her work with angels. Her popular column Ask an Angel is read world-wide.
Nominated by the New York Times About.com "Readers Choice Favorite Angel Intuitive 2012 & 2013"
Walk in Grace and Beauty and May Peace and Fulfillment be on Your Path,
Eileen Anglin and The Path of the White Rose LLC
Official Website:
http://www.whiterosepath.com
Online Tools For Transformation: MP3's, Angelic Meditations and more at the
White Rose Store:
http://whiterosepath.com/store

Angelic Energy Art:
https://www.etsy.com/shop/WhiteRosePath

Angel Blog:
http://whiterosepath.wordpress.com