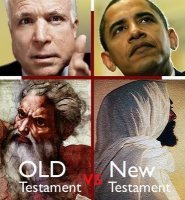 Political arguments are about moral values. At bottom they are about right and wrong, not true and false. So you cannot argue politics the same way you argue science, mathematics or even history.
...
American left and right:
The right thinks in terms of authority, rules, punishment, freedom, individualism. That government is best which governs least. Individuals should be as free as possible to pursue their own self-interest. Every man for himself. Sink or swim. Equality is for crybabies and losers.

The left sees the country as a huge family where we all help each other – because we are all in it together. No one makes it all on their own. Public goods are good – like public schooling and universal healthcare. Equality of opportunity is important.
Framing is huge. The words you use and what is assumed by how you put things affects how people see the debate. Framing affects even judges on the Supreme Court. For example, calling abortion a right to privacy or healthcare a service to buy has profoundly affected how laws have been written, passed and judged.
Therefore:
1. Do not repeat what your opponents say. It repeats their framing and strengthens it in people's minds. It is free advertising.
2. Say what you are for. Push your message in moral terms in your own language. Frame the issue. Repeat your message over and over to strengthen it in people's minds.
3. Use facts to confirm your message - not to disprove your opponent's. Facts can only strengthen a frame, not break one.
4. Do not hold back on why you are for something. Whatever moved you will move others. It was probably not some dry fact you read in a book. That is why:
5. Anecdotes and people's stories matter. While they prove nothing in science, in politics they matter – because politics is about people.
6. Use simple language. Cat, not animal. Sky, land or water, not "the environment". The more that people can picture what you say, the more it will affect them. The simpler your words, the easier your message will be processed and stick.
7. Contested concepts: Freedom, equality and justice are wonderful things but they mean different things to the left and right.