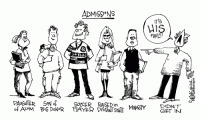 "On October 10, 2012, the Supreme Court will hear the case of Fisher v. University of Texas. Abigail Noel Fisher feels that racial minorities – and only racial minorities – took her seat at UT. When we look at the facts, however, it's difficult to see how affirmative action - and only affirmative action - is to blame for Fisher not being admitted at UT.
Every year colleges admit legacies, athletes, kids with rich donor parents, etc. But for some strange reason we don't see Supreme Court cases against these admissions criteria, even though they have nothing to do with academic merit.
Fisher applied to UT – a highly ranked university – with a GPA of 3.59 out of 4.00 and an SAT score of 1180 out of 1600. UT has a "Top 10%" rule whereby they admit the top 10% of Texas high school students each year. 81% of the freshman class at UT is admitted through this process; it is notable to observe that Abigail Fisher was not among them."
- MORE -