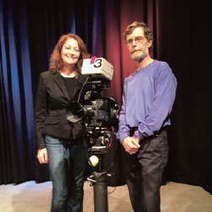 ~ Community Television struggles to achieve financial sustainability during hard times for noncommercial media outlets ~
Faced with budget cuts, legislation that restricts spending, and decreasing revenues, Community Television of Santa Cruz County (CTV)—the 19-year-old pillar of local public media access—has been left with no choice but to re-invent their business model, lest the nonprofit succumb to their financial hardships.
Their solution? To stop operating so much like a nonprofit.
CTV's struggle to survive and devise new ways of bringing in revenues reflects the experience of public access channels all over the nation.
--- more at original post: http://www.gtweekly.com/index.php/santa-cruz-news/36-santa-cruz-business-news/5001-changing-the-channel.html