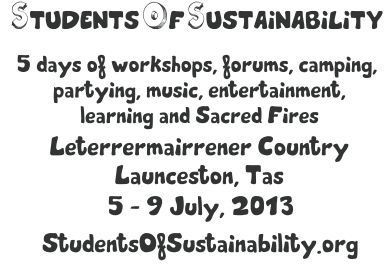 5 day fully catered camping conference with a diverse range of speakers and workshops.
Day 1: Successes day Celebrating campaign successes of the past year and touching on some of the great historical successes of the environmental movement.
Day 2: Challenges day Looking in detail at the challenges that we're currently facing and taking time for emotional and intellectual reflection and sharing around these challenges.
Day 3: Asset mapping and Pitch day A day to look at the strengths of the environmental movement and come up with campaign ideas to workshop over the final two days.
Day 4: Skills and Journey day A day of personal development and a chance to hear some stories from experienced activists about how they got to be where they are now.
Day 5: Doing day A day to do the majority of practical workshops. This is also a day when groups who formed campaign ideas on day 3 can get their campaigns up and running!
For more information go to: http://studentsofsustainability.org/

This event is supported by the University of Tasmania through the Office of the Pro Vice-Chancellor Regional Development.