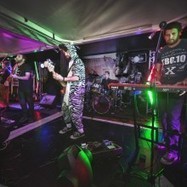 The Junction Arts Festival (JAF) is an annual multi-arts festival featuring playful, interactive and ambitious contemporary live performance, theatre, visual and media arts, literature, music and dance.
What: Junction Arts Festival 2013
Who: Students
When: Thursday 5th September 2013
Time: depart Newnham at 3.30pm, returning at approximately 10pm (to be confirmed)
Where: Civic Square and surrounding CBD, Launceston
Cost: $15
What do you get? Bus from Newnham and Inveresk to Civic Square, live music in the Junc Room, light dinner, choice between two live shows, bus back to Inveresk and Newnham AND the opportunity to travel and hang out with other students.
The Junction Arts Festival and Launceston at night are a wonderful combination. There is a lot to see and do at this Festival, and as you'll be travelling in a larger group you don't have to be by yourself! There will be lots of live music, poetry shows, food, visual art and live performances. All you will need to pay for are your drinks.
This group package has been made possible through the collaboration of:
Junction Arts Festival

UTAS Launceston Engagement & Development

UTAS Accommodation Services

UTAS CFNP
To secure your ticket please make your payment at the Cashier, Student Centre, Newnham campus.
For more information please email Michelle at Community.Friendship@utas.edu.au