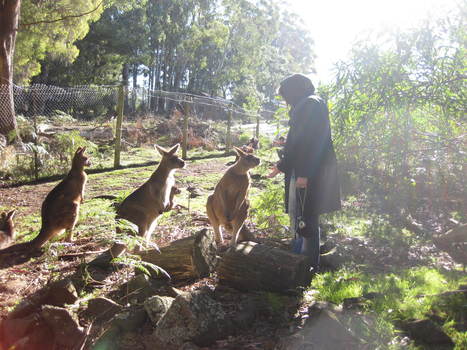 When: Wednesday 10th July 2013
Who: Currently enrolled students
Depart: Newnham campus (turning circle near Faculty of Arts), via Inveresk at 9am
Return: to Newnham campus (turning circle near Faculty of Arts), via Inveresk no later than 5.30pm
Cost: $22 Includes bus and entry into Trowunna
Where will you go? You will have a wonderfully full day of travel, seeing the countryside, tasting a wide variety of freshly produced foods (eg. honey, cheese and raspberries (not all at the same time!) as you travel through the beautiful Tasmanian countryside!
•Honey Farm ………………….................http://www.thehoneyfarm.com.au
•Trowunna Wildlife Sanctuary……..............…http://www.trowunna.com.au
Come see Tasmanian native animals up close and personal!
•Ashgrove Farm……..............……... http://www.ashgrovecheese.com.au
•Anvers Chocolate………..............…http://www.anvers-chocolate.com.au
•Christmas Hills Raspberry Farm… http://www.raspberryfarmcafe.com.au

Lunch is Bring Your Own, or buy from Ashgrove Farm or at Anvers.
Please wear shoes suitable for walking outside in nature.

To secure your seat please make the payment (and show your student id) to the Cashier, Student Centre, Newnham Campus.
Cashier hours are 9am – 4pm.
For more information email Michelle.Brownlea@utas.edu.au
Please email Michelle if you would like to catch the bus from
the Inveresk Precinct.
Seats can only be reserved for you once payment has been made.