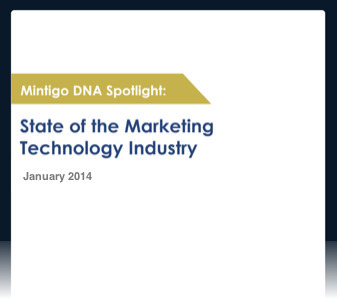 Basic/ Excerpt...
But while marketing automation technologies have advanced dramatically in recent years, new research released by Mintigo indicates that only three percent of B2B companies are actually leveraging these platforms, highlighting a huge untapped market opportunity. The report analyzed 186,500 US-based B2B companies to discover the types of businesses across industries that had implemented the latest marketing tools.
Additional insights from the report include:
-- > Big business adopts first: Larger companies (with more than 1,000 employees) were twice as likely to have adopted a marketing automation solution than companies with fewer than 1,000 employees.
-- > Tech leads adoption: Software and Internet companies represented the industry with the highest overall use of marketing automation tools at a rate of 11.8 percent. Telecommunications companies had the highest number of users per capita, but a lower overall adoption rate.
-- > Though adoption rates of marketing automation tools were higher at companies with more than 1,000 employees, the overall implementation percentage was still below eight percent, showing that none of these tools have gained more than a small foothold in their potential market.
___________________________________
► Receive a FREE daily summary of The Marketing Technology Alert directly to your inbox. To subscribe, please go to http://ineomarketing.com/About_The_MAR_Sub.html ; (your privacy is protected).
Via
marketingIO