Scoop.it!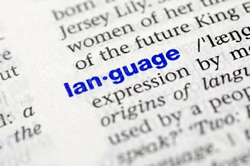 Lingua Digitalis's insight:
Researchers and practitioners recognize the dual role of language as a technical skill in the workplace and as a saleable commodity in the marketplace. In fields such as marketing, translation, tourism, customer service and communication training, language work has now become central to economic globalization (Boutet 2012). In many other fields, demands for accountability require professionals to document their practices, resulting in the textualization of work (Tusting 2010). However, to expose (and exploit) the impact of language use in and as business, it is essential that we understand its added symbolic values, standardization, visionary myths, encoded power struggles, group boundaries, regulations for the flow of people, goods and information, auguries of changes to come or engraved relics of changes past (Czerniawska, 1997).
The panel (proposed to present at "i-mean 4 @ Warwick" 9-11 April 2015) would like to explore the impact of language use in professional contexts as this relates to:
actors and agents (clients, colleagues, stakeholders)traditional, emergent and innovative genres, practices and featuresthe creation of economic valueresearch on language and communication
If you are interested in participating please get in touch. We welcome abstracts at this point, but also tentative suggestions, or ideas for more specific themes or discussion formats.
e.darics@aston.ac.uk
tom.vanhout@uantwerp.be
Timing:
1 December 2014: deadline for panel proposals15 December 2014: panel acceptance ;-) announced31 January 2015: deadline for submitting abstracts9-11 April 2015: I-mean conference @ Warwick University
References:
Czerniawska, F. (1997) Corporate Speak: The Use of Language in Business.Basingstoke: Macmillan.Boutet, J. (2012) Language workers: emblematic figures of late capitalism. In A. Duchene & M. Heller (Eds). Language in late capitalism. Pride and profit. (pp. 207-229) London: Routledge.Tusting, K. (2010) Eruptions of interruptions: managing tensions between writing and other tasks in a textualized childcare workplace. In D. Barton and U. Papen (Eds.) The anthropology of writing: understanding textually mediated worlds. (pp. 67-89). London: Continuum.