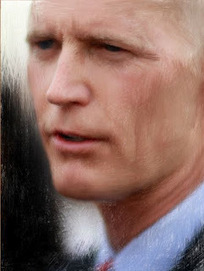 In some ways it is only logical that the out-of-touch Republican leadership should decide that this particular man- who is clearly so unpopular- should be offered a chance to speak at the convention. He is, after all, a proper symbol of what has gone wrong.
Not that the GOP understands that finer point. Throughout Scott's boasting at the convention, absolutely nobody in Tampa will be asking questions about the reasons for this negative opinion of Scott's character, his policies and his performance.
Rick Scott wasn't always so disliked but the honeymoon was surprisingly short.
While some Scott's supporters- wherever they linger- may say that the governor is making courageous decisions when it comes to the difficult choices about funding, others feel that his budget cuts have had a damaging impact on the state's social services upon which so many are dependent.

And it's not merely a question of social conscience or the loss of jobs, the cuts are also putting all Floridians at risk.