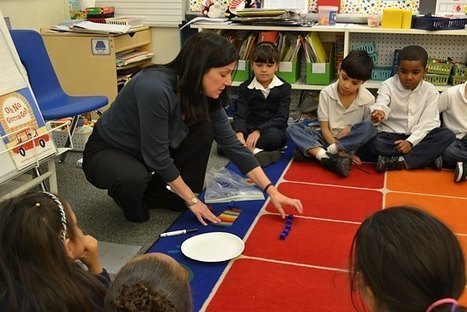 New Math Curriculum Matches Common Core
The shift to Singapore math comes as the New Haven takes part in the Common Core State Standards Initiative, whereby districts and states are aligning assessments and curriculae to a new national standard.
New Haven plans to overhaul its math and literacy curriculae by the 2014-15 school year, including the full implementation of Singapore math. The district chose the Singapore approach because it "matches so well" with the Common Core effort, Mathews said.
Change the way we teach
When it came time to help her first-graders through a tricky subtraction problem, Rosalie Carr reached for a new arsenal of colored chips, base-10 bars and mighty "number bonds."
Not Knowing the Answer, but Finding and Explaining
With Singapore math, kids are encouraged not to just spit out answers, but to talk about which strategies they use to arrive at the solution.
Understanding not Memorization
Before Singapore math, Carr said, she relied much more heavily on flashcards. Singapore math aims to have kids understand the relationship between numbers instead of just memorizing fast facts.
4 math initiatives in 9 years?
In her nine years at New Haven public schools, this is the fourth math initiative Carr has tried out. She said it's the best, so far. The pages of the textbook are cleaner, with more real-life images. And the pace of the year is a blessing, she said.
Mastery over Coverage
In the past, the district's elementary math curriculum ran "a mile wide and inch deep," said district math coordinator Ken Mathews in an interview. Teachers had to rush through a range of topics. "Now we're putting on the brakes," he said: Teachers are instructed not to move on from a unit until "everybody masters it."