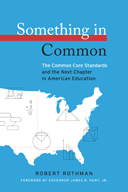 By Robert Rothman
Myth #1 The Common Core State Standards are a national curriculum.
Myth #2 The Common Core State Standards are an Obama administration initiative.
Myth #3 The Common Core standards represent a modest change from current practice.
In preparation for adoption of the Common Core standards, several states conducted analyses that found considerable alignment between them and their current standards. Yet while the content of the two sets of standards is similar, the level of knowledge and skills the Common Core calls for is in many respects quite different from what current standards expect and what schools currently practice.
Take English language arts. Perhaps the main idea of the Common Core ELA standards is the notion that students should read increasingly complex texts in order to be prepared for the reading they will do in postsecondary education. Yet research the standards-writers relied upon showed that the complexity of texts assigned in high school has actually declined over time, while the reading requirements of entry-level college courses have increased. The Common Core Standards raise the expectations for text complexity considerably.
Myth #4 States cannot implement the Common Core standards in the current budget climate.
Myth #5 The Common Core State Standards will transform schools.
Yet even the most passionate advocate of standards will acknowledge that standards, by themselves, do not improve education. Standards can do a great deal: they can set clear goals for learning for students and teachers, and establish guidelines for instruction and performance. But to have an effect on the day-to-day interaction between students and teachers, and thus improve learning, states and districts will have to implement the standards. That will require changes in curricula and assessments to align with the standards, professional development to ensure that teachers know what they are expected to teach, and ultimately, changes in teacher education so that all teachers have the capability to teach all students to the standards. The standards are only the first step on the road to higher levels of learning.