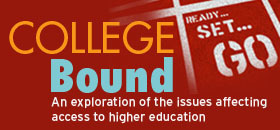 If high schools are going to better prepare students for college and careers, experts say they need to track graduates enrolling in higher education, whether they take remedial courses to get up to speed, and whether they earn a degree.
"Our educators and students will not make sufficient college-ready gains unless they have information on how their students are actually doing in college," said J.B. Schramm, the founder and chief executive officer of the Washington-based College Summit, who, along with co-author E. Kinney Zalesne, today released a paper, "Seizing the Measurement Moment."
Schramm suggested four steps to move forward:
1. Improve the ability to measure students' postsecondary success;
2. make those data available statewide;
3. provide technical assistance to translate data into action; and
4. reward districts whose students' college enrollment and performance improves.
In 2005, 12 states were reporting the capacity to link K-12 and higher education systems, and by 2010, the number had leaped to 44.
U.S. Sen. Michael F. Bennet, D-Colo., a former school superintendent in Denver, said there is a big systems problem in the delivery model of K-12 education. "You can't do this systems work unless you have data and unless you are rigorous about it and unless you actually measure what you are trying to do."