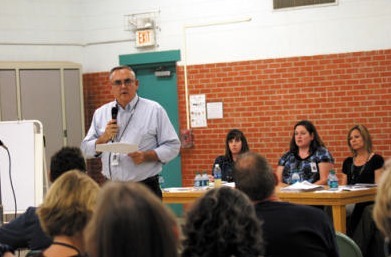 No longer do elementary-age children bring home report cards with A to F grades based on basic averages of performance in the classroom.
As part of a nationwide push to bring elementary school students onto a level playing field, Alamogordo Public Schools have moved to a report card system wholly different than any other.
APS has adopted common core standards as they currently are being determined for the state by the New Mexico Public Education Department.
"How do we make standards-based report cards?" APS Superintendent Dr. George Straface asked Monday during an informational meeting held at Yucca Elementary School. "It's common sense."
Straface said the report card needs to define what they want the children to do in school; see if it was done; define what will be done if the goals are not reached; and help the teachers find ways to get the work done.
Heights/High Rolls principal Jerry Wheeler talked about the beginnings of the new system.
Previously, he said, schools relied on a traditional A through F system. Then, in 2001, No Child Left Behind legislation had states and school systems looking at accountability and the system moved to being based on standards and benchmarks as determined by individual states. Now those standards and benchmarks are being adapted into common core standards as accepted across the United States.
The new system, Wheeler said, looks for patterns, not averages, to determine an individual child's progress.
He explained that...