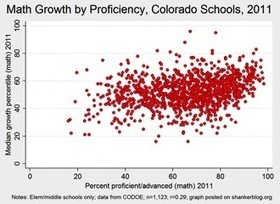 By Michael J. Petrilli
"Student growth is the true measure of school effectiveness."
"Proficiency rates are terrible measures of school effectiveness. As any graduate student will tell you, those rates mostly reflect a school's demographics. What is more telling, in terms of the impact of a school on its students' achievement and life chances, is how much growth the school helps its charges make over the course of a school year—what accountability-guru Rich Wenning aptly calls students' "velocity." This is doubly so in the Common Core era, as states (like New York) move to raise the bar and ask students to show their stuff against a college- and career-readiness standard."