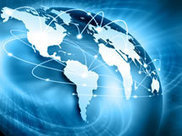 "Mounting evidence clearly shows that our educational performance is not just a challenge of poverty, it's an American challenge. Many middle class schools in the U.S. are not yet producing students ready to compete in the global economy."
A new test from the Organisation for Economic Co-operation and Development (OECD) will let individual schools see how their achievement ranks compared to schools in other countries around the world.
According to a recent report released by the nonprofit educational organizationAmerica Achieves, it's not just low-income schools in the U.S. that have poor performance—it's the country's middle-class students, too.