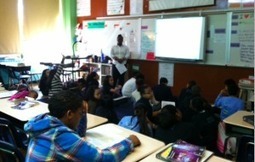 Try telling kids you're going to read like writers,"
"We had to change the way [they] thought about text.
Teachers needed to change their planning and get to know their texts really well."
teach close reading in all classes, not just English
Common Core-aligned texts... are harder than any their students have faced before.
With a focus on textual evidence under the new standards, "there's a real 'right is right' approach that I've never felt as an ELA teacher."
"The teacher is prompting and coaching as compared to direct teaching," "And that means teachers giving up control. That's hard."
"The focus on questions could be really helpful to us."
finding texts is one of the hardest parts of adapting classes to the new standards.