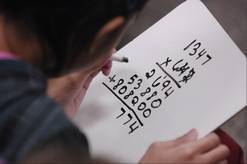 By Christina Hank
A few months ago I was invited by Student Achievement Partners (achievethecore.org) to become a "Common Core Advocate" with 100 other educators across the nation.
3 Math Shifts
1. Focus: Focus strongly where the standards focus
This is the HUGE shift–the Biggie!!!! You have to get this one first
Tradition has been that K-12 would focus on all four areas: Numbers and Ops, Measurement and Geo, Alg and Functions, Stats and Probability
Must change "coverage mentality"

2. Coherence: Think across grades, and link to major topics
The idea that you're connecting the learning from this year to the learning from prior years.
You are always working on the major work of the grade even when you are getting into specifics.

3. Rigor: In major topics, pursue conceptual understanding, procedural skill and fluency, and application.
The CCSS aren't about always getting the right answer, it's about understanding the processes
The fact that you know your multiplication facts is great, but you need to understand what they mean and why we have them.
Misconception: "Rigor means physically more difficult or harder"; some people think that each standards requires and equal amount of rigor.
Fluency in math means you can do it accurately and quickly. Fluency increases in level K-12. It doesn't matter how you do it or how you get to the answer, but you can do it.
Mathematical practices–in addition to the content standards, there are mathematical practices.