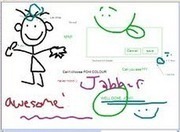 Want to encourage people to learn collaboratively, a skill much needed in the 21st century education?
Yes! Then take a look at these collaborative whiteboards.
There are many whiteboard tools available, each one having different features and providing different services.
This post, a result of some research, provides a list that practitioners can use...
- as collaboration tools
- to host virtual brainstorming sessions with their learners
Learners can work simultaneously on a certain project with everyone drawing, sketching, scribbling, and adding their touch to the final work.
They can also save their whiteboard and refer back to it when needed.
Via
John Dalziel