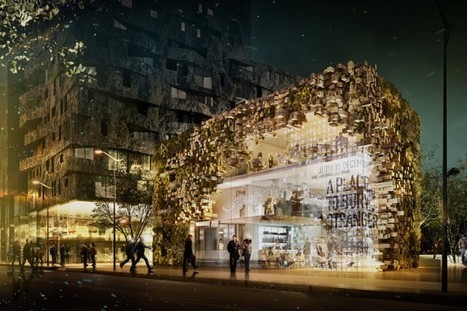 Architect Stephane Malka's striking facade proposal for a Parisian restaurant creates an unusual site, sure to stand out in the urban setting of the city. Amidst a city of man-made concrete and glass structures could rise a building essentially comprised of an organically growing "forest.
Malka, who has experience in urban landscaping, created a green facade that wraps around a glass enclosure and is composed of raw wooden blocks arranged in a patchy, pixelating pattern. The uneven surface creates spaces for plant life to grow, spilling flourishing green plants and foliage down the building.
The textured wooden facade, which seems to actively move inward to completely engulf the glass skin, stops to reveal an expansive view of the restaurant's interior.
Malka's work presents passersby and restaurant customer with with the interesting paradox of nature abundantly flourishing in an urban environment...
Via
Lauren Moss