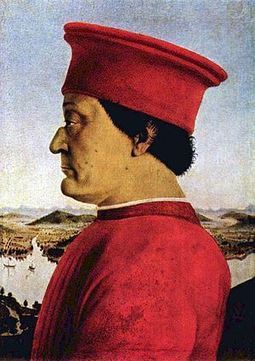 In Le Marche, not far from the Adriatic Sea, the savvy traveler will find the small hill town of Urbino. It is perched between the Foglio and Metauro Rivers.
Le Marche enjoys more than 100 miles of clean Adriatic coastline with long stretches of sandy beaches. The regional capital is Ancona where an annual "Summer Jamboree Festival" is held with bands from all over the world. www.summerjamboree.com
Urbino was declared a dukedom in the middle of the 15th century. Raphael and Bramante were famous local Renaissance artists. Urbino's historic center has a magnificent array of medieval and well-preserved Renaissance buildings nestled in a picturesque countryside setting that was unscribed by UNESCO in 1998.
Urbino was the birthplace of Raffaello Sanzio in 1483.[...]Visit the elegantly proportioned Palazzo Ducale that was built for Duke Federico da Montefeltro and his wife Battista Sforza as a defensive structure in 1460 designed by architect by Luciano da Laurana and Francesco di Giorgio Martini..[...]The palace houses the Galleria Nazionale delle Marche (The Marche National Gallery) and holds the most significant collection of Marchigiana art. This museum is the home to works by Raphael, Piero della Francesca, Tizano, Paolo Uccello and Luca Signorelli..[...]The elegant, Neo-Classical Duomo was rebuilt after the earthquake of 1789. It was done by Giuseppe Valadier, Architect of the Holy See..[...]Have a "Vino con Vista" at La Vecchia Fornarina close to Piazza della Republica. It is the oldest restaurant in Urbino. Order some fish stew with a glass of Verdicchio dei Castelli di Jesi (DOC) , a crisp white wine. Order some red Piceno (DOC) vino at the Mamiani Hotel on Via Bernini and enjoy the beautiful view..[...]Visit the Umani Ronchi Winery. Try some Medoro Marche Sangiovese or Le Busche Marche Bianco (
www.unmanironchi.com
). Visit the International Wine Label Museum in Cupramontana.[...]A haven for Foodies, the cuisine has been influenced by Romagna to the north and Abruzzi to the south. From polenta to porchetta and white truffles, the regional specialties of the Marches include:In August, attend the "Sagra delle Frittelle" of Massignano in the Ascoli Piceno fortress. This Fritter Fest is a 50 year old Italian Food Festival. The Macerata Opera Festival is held in Sferisterio from July 15 to August 15
www.maceratagallery.it.
.[...]More notable holy places include: the 14th-century Oratory of St John the Baptist with outstanding frescoes by Luca Signorelli and the 14th century Church of San Francesco with an interior that was redesigned in the 18th century. .[...]Attend glorious "Holiday Festivals and Events" in the town of Candelara in December in the province of Macerata and also in the town of Fano in Giardini Amiani..[...]
Via
Mariano Pallottini