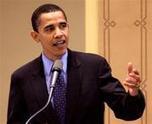 WASHINGTON (AP) -- In 1999, a fresh-faced state senator on Chicago's South Side heard constituents complain that police were free to pull over drivers because they were black. So Barack Obama proposed a bill to tackle racial profiling. When it failed, he revised it and proposed it again and again.
"Race and ethnicity is not an indicator of criminal activity," Obama said when his bill finally passed the Senate four years later. He said targeting individuals based on race was humiliating and fostered contempt in black communities.
More than a decade later, Obama's efforts to pass groundbreaking racial profiling legislation in Illinois offer some of the clearest clues as to how America's first black president feels about an issue that's polarizing a nation roiled by the shooting death of black teenager Trayvon Martin.