Scoop.it!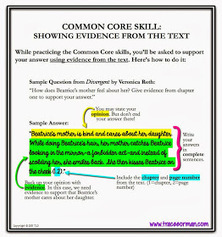 Lynnette Van Dyke's insight:
One of the most important reading and writing skills students should practice is showing evidence from the text to support their answers. However, many of my students struggle with this. In the past, our students have been programmed to fill in a bubble answer on a standardized test that shows the evidence rather than try to find it themselves.

Show your students how to give evidence by demonstrating it (see visual aid, above).
My example question is from Divergent by Veronica Roth. It asks: "How does Beatrice's mother feel about her? Give evidence from chapter one to support your answer."


In the past, students may have just given me short answers like, "She cares about her daughter." By asking for evidence, students can't just give their opinion. We know their opinion is based on something, so they have to be further prompted to tell us what they based it on. Therefore, the student's answer should include not only their opinion, but one or two examples from the text that show this. Their answers should be paraphrased, but they still need to include the page number.
This question-strategy helps those struggling readers find the right answers, as well. If a student wrote, "She's mean," he/she would have to back it up with an example from the chapter that shows Beatrice's mother is mean. When he/she can't find an example, he/she will have to re-think his/her original opinion.
For students who are really struggling, I may prompt them orally with questions like, "Look at the non-verbal clues: what is Beatrice's mom doing to Beatrice in the first scene of the book? What does her mood seem to be? How do you know she feels this way? When a mother acts this way toward a child, what does it indicate about how she feels toward the child?"

There are always a handful of students who complain that they can't find the answers in the book. If you have these same complainers, these are your students who are not reading the book. Because even students who have severe learning disabilities can answer the questions when they read it (or listen to the text).

So here's what I say to the complainers: "You aren't going to find a single sentence that gives you the answer to the question. And the answer isn't merely your opinion, either. The answer comes from that feeling you get about the character, or the theme, or whatever it is you're looking for. It's based on what you've inferred and gathered from descriptions and dialogue that can only come from reading it. Simply put, there is no short cut. The text must be read to answer the questions."

[Insert student groans.] After they channel their inner first-grader and throw another "I don't want to read" fit, they usually buck up and start reading.

Note: I do not mind allowing students to listen to audio of the text, especially if they follow along with their books. If this is the only way to get those reluctant readers to read, I say go for it. Today's teens are not like us. They learn much differently; we need to access and use every resource, device, and strategy to help them read on their own.

If you need handouts for instituting the Common Core standards into your curriculum, I have you covered! Check out all these great resources, ready to use with ANY text (fiction or non-fiction):
CCSS Reading Graphic Organizers, Grades 6,7,8
CCSS Reading Graphic Organizers, Grades 9-10 (Also covers grades 6-8)
CCSS Reading Graphic Organizers, Grades 11-12 (Also covers grades 6-10)

For non-fiction text and historical documents:
CCSS History & Social Studies Reading Graphic Organizers, Grades 6-12

For non-fiction and scientific texts:
CCSS Science & Technical Subjects Reading Graphic Organizers, Grades 6-12
FREE: CCSS Science & Technical Subjects Reading Graphic Organizers for RST.1, Grades 6-12