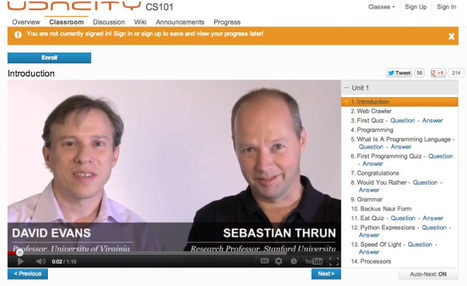 Udacity wants to go beyond an English-language audience - and it's asking its users to help: The e-learning startup has partnered with Amara to add crowdsourced captions to its video assets.
E-learning startup Udacity has partnered with Amara, formerly known as Universal Subtitles, to use crowdsourcing for closed captioning of its video assets. Volunteers can use Amara's web-based captioning editor to add subtitles to more than 5000 Udacity videos, and Amara co-founder Nicholas Reville told me via email that he expects "thousands of volunteers join over the next month."
"We hope that by engaging our users with Amara's platform, we can make our content more accessible by adapting to our international population's languages. That is ultimately the core purpose of Udacity. We want to democratize education by broadening access and delivery of high quality university learning and content."
For Amara, the partnership with Udacity means that it is expanding its footprint in the e-learning space. The crowdsourced captioning platform has already partnered with Coursera, TED and the Khan Academy. Reville told me that altogether, the platform has seen more than 68,000 volunteers subtitle over 200,000 videos in more than 100 languages.