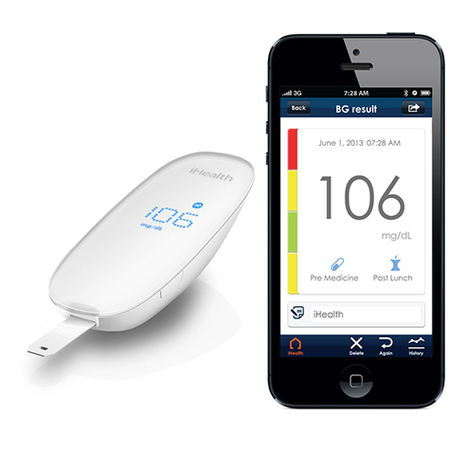 Blood glucose monitors are growing up, and it's about time. With some 26 million diabetics in the U.S. alone, (that's almost 1 in 10 Americans), and hundreds of millions globally, according to the American Diabetes Association, glucose monitoring has become one of the largest patient-generated data sets in the world -- and yet much of that data is being uploaded manually onto desktops or written by hand into little log books.
In 2013, that just isn't good enough. So iHealth Lab out of Mountain View, Calif., is announcing Wednesday the release of its FDA-approved Wireless Smart Gluco-Monitoring System -- a portable Bluetooth-enabled blood glucose monitor that allows people to take a reading and have the results sync automatically to their iOS or Android device and stored in the cloud. From there they can track their measurements and share the results with their health care providers. (The device was unveiled at CES in January but recently received approval from the FDA.)
"It's really hard to make products that are serious in nature yet approachable, with an intimate attachment," says Adam Lin, president of iHealth Lab. "One of the things we got when we did user tests, some of the reactions we got from some patients [was], 'Yeah, I love this thing,' and it's hard to get that with a medical device. How do you love your glucose monitor?"
The device, which will be available at Best Buy stores nationwide and on Best Buy's and iHealth Lab's Web sites for $79.95, is small, sleek, and not at all flashy. After charging the device and downloading the free companion iHealth Gluco-Smart App, the initial set-up takes a few minutes and the whole kit comes in a small case with little compartments for easy storage.