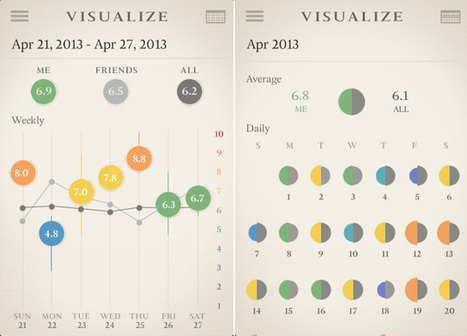 Emotions play tricks on our memories, making our recollections of events much happier or heart-wrenching than they actually were. Smartphone app Expereal seeks to cut through those cognitive traps by allowing you to rate your day on a 10-point scale and organizing that data into easy-to-read charts.

The iOS app (Android and Web-based versions are planned) is the brainchild of Brooklyn-based digital strategist Jonathan Cohen, who was inspired by psychologist Daniel Kahneham's 2010 TED talk "The riddle of experience vs. memory." Kahneham argues that our memories are often distorted by cognitive biases. For example, one bad day can completely spoil someone's memory of an otherwise pleasurable two-week vacation.

When designing Expereal, Cohen decided to stick to a 10-point scale to help users keep their ratings objective. "I could have potentially asked people to pick a word to describe their mood, but what I like about numbers is that in order to get the full breadth and benefit you also have to enter tags and give meaning to it," says Cohen.

Expereal's first screen allows you to rate your day (or part of the day, depending on how often you use the app). Then you can note your location and the people you are with, add tags and snap a photo. A drop-down menu takes you to a set of charts that visualize your ratings by day, week or month, and compares your numbers to all of Expereal's users or your Facebook friends who also use the app (data is aggregated anonymously). The "Expereotype" option is an album of your in-app photos with embedded ratings, tags and locations.

Cohen says Expereal fills the gap left by journaling apps and life-tracking wearable tech products like Jawbone UP and Nike Fuelband.

"None of these services in my mind really address the fundamental question–'how is my life going and how is it trending over time?' I thought that by having a better understanding of this over time, it would be an interesting way to look back in order to move forward," says Cohen.