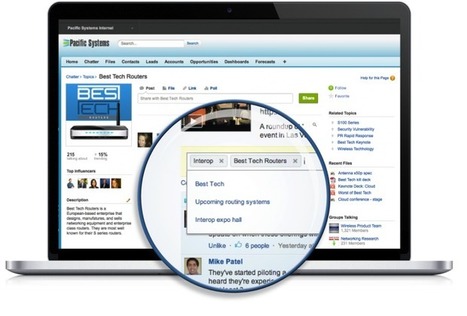 Salesforce.com is updating its enterprise social network called Chatter in a way that enables companies to tap into the interest graph. Chatter now features "Topics and Expertise", integrating useful information they find from their social channels into the product to help them better discover insights, identify experts, and even find related resources.
Adding Topics and Expertise to Chatter
Joining existing features such as Recommendations, Similar Files, and Search, on Chatter is Topics and Expertise. Through this, users can analyze and categorize information within the Salesforce platform. The company says that the new Chatter will "seamlessly connect related experts, files, groups, and other information, all on a single topic page."
How it works is that a user will log into Chatter and add a post to to the News Feed and can then apply tags to have it assigned to a specific topic. Salesforce has created an algorithm that will look at all posts to suggest specific topics that the user could assign to it. Users do not need to stick with the suggested tags and can create their own to apply to the post.
Once a topic tag has been added, that specific post will be linked to a Topic page, similar to what you might find on Wikipedia or perhaps even on Facebook Pages. Think about a Topic page as the catch all about that specific issue — so if someone posts something noteworthy in Chatter about, say, The Next Web, the system's algorithm would automatically generate a related page. Users can go to the page and view all the relevant posts with the appropriate topic tag aggregated in one spot.
In addition, Topic pages include a list of top influencers so that users will know who has been sharing the most about the specific topic within the company. By clicking on a specific person, users can learn more about them on their Chatter profile page, along with topics that they are influential about, where they work, their interests, and more.