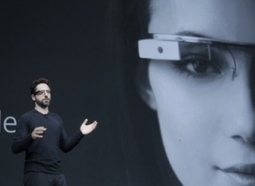 Google Glass posted a new video today, inching ever closer to a real product. The video might not show the final user interface, but this is the first time that we're seeing something that looks realistic, usable, and practical.
Unobtrusive is the watchword here. Most of the action takes place in the upper-right hand corner of your field of vision with simple, translucent text and pictures. The gist is this: you say "ok glass, (do a thing)" and it does. We see people making calls, taking pictures, looking up Wikipedia articles, reading directions and more. Most of these people are doing much cooler things than we will ever do – Kendo, fire juggling and hot-air ballooning, for a few – but one can imagine the practicality even in our own boring lives.
There's one feature in there that stands out – translation. In the video, we see a simple test. A man asks Glass for a single word translation, and it speaks it to him. In that basic form, translation is straightforward, practical, and fun. But imagining the potential of carrying around a robust, effective translator with us wherever you go has dizzying implications. Instant translation with Glass, if it could be made to work, has the potential to be a world-changing technology. Maybe there could be a more functional version of "Word Lens," translating signs wherever you look. In a true vision of a sci-fi future, you could imagine someone speaking to you and the text appearing on screen. Or even being spoken to you with a bone-conduction speaker. Realizing just a small portion of those fantasies could break apart barriers and further shrink the world, in a good way.