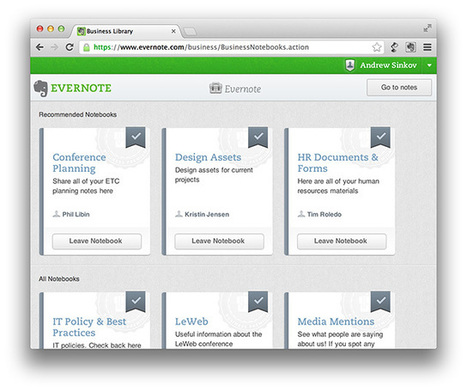 A Fully Collaborative Tool
The company whose collection of products aim to "help the world remember everything" — otherwise known as Evernote — has announced the launch of Evernote Business, a collaboration and communication tool for small and medium sized businesses. With the full version of Evernote Business, users sync and view work documents through a variety of platforms, such as Mac, iPhone and iPads, Web, Windows and Android Devices. Files that can be uploaded include spreadsheets, presentations, notes and design mock ups. In addition, administrators can monitor company progress and individual employees through the admin console.
The Features of Evernote Business
There are three key features of the Evernote Business product.
> Business Notebooks: A business notebook is a collection of documents or information that the entire company can see. They can be shared individually or published on the company's Business Library.
> Personal Notebooks: As their title suggests, Personal Notebooks is a private version of the Business Notebooks. If a user has a pre-existing Evernote account or creates one, then they can use this feature.
> Business Library: This is where information is transported from the Business Notebooks feature. While all current employees have access to this feature and can publish information from their Business Notebook, Administrators manage the library's content.
It's About What You Know
With this in mind, there are two components that Evernote uses to improve collaboration and communication and make this product useful to small and medium sized business — Knowledge Collection and Knowledge Discovery. With Knowledge Discovery, Evernote wants to make sure that their customers have enough space to store files.