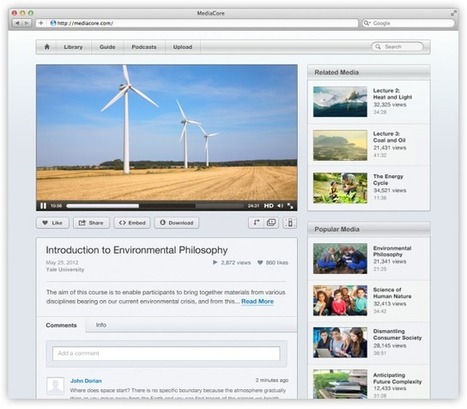 MediaCore, a company which launched a year ago with the mission of allowing any business to roll out its own private YouTube, is refocusing its efforts on the education market...
One of the issues with video in education is that many schools block YouTube, which is where a lot of today's educational content is found. According to CEO Stuart Bowness, "YouTube is blocked in about 80% of U.S. K-12 institutions, and it's blocked in a lot of corporations too…it isn't perceived as a safe place to send kids to learn," He says,"or employees as they can get distracted." So on MediaCore, teachers can privately share video with students, other teachers, or parents, as need be. In addition to commenting, they also have access to view real-time analytics around those videos.
Now MediaCore has signed up video-sharing site SchoolTube as a customer, which takes the MediaCore user base to 5.5 million students per month, and has notably attracted some key talent with hiring of former Apple education executive, Alan Greenberg. Part of his role will be to set up the new Educator-in-Residence program, which will help teachers and professors better understand how they can use video as a teaching tool in the classroom.