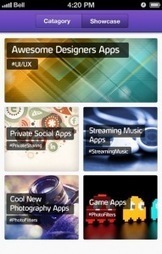 Here's how it works.
Hubbl captures the opinions about an app from around the web by aggregating content from mainstream media articles, blogs and app enthusiasts. It combines these opinions with those from your friends on Facebook (if you sign up with Facebook), your friends on Hubbl and the Hubbl community at large in order to organize the apps into smart collections. These collections aren't just general categories like "games" or "social," but can be narrowly focused on one particular app feature, too. For example, Evernote is a Productivity and Note-taking tool, but you can tag it "LifeLogging" if that's what you use it for.
These categories work like Twitter hashtags in the app. If you tap on "LifeLogging" in the above example, you would come across a list of apps that also fit that genre. And then you may end up tapping on one of those apps' other hashtags to follow drill down into a different feature set, too. There's a feeling of serendipitous, zigzagging discovery here.
In Hubbl, you can explore apps by popular tags, you can view those trending in the news, or you can view the stream of the apps your friends recommend within different sections of the platform ("Explore," "Buzz," "Stream"). However, the game element comes into play under "Contests." Every day, Hubbl will have a contest where users submit or vote on the most appropriate tag for a given app. The first person to submit the winning tag gets a $15 iTunes Gift Card. The idea here is to create an incentive to classify the newly added apps – not the Evernotes and Instagrams, necessarily, but those that aren't yet tagged.
Hubbl says that the contests are needed because people get tired of curation after some point, and it's difficult to maintain a network around app organization and friends' recommendations when people stop participating. With contests, users are encouraged to return the app and to help Hubbl continue to classify the new additions. The contests would also be open to sponsorship, too, allowing app publishers to take over the contest for the day and offer their own award for help in picking out the best tags for their app, as well.
It's an interesting concept to use a gamification element to encourage repeat visits to an app discovery platform, and people certainly like to win stuff, so it could catch on. However, Hubbl isn't quite ready yet for its big debut – that's still a few weeks out - so it' s hard to review the experience based on what we can test right now. Final judgement is on hold.