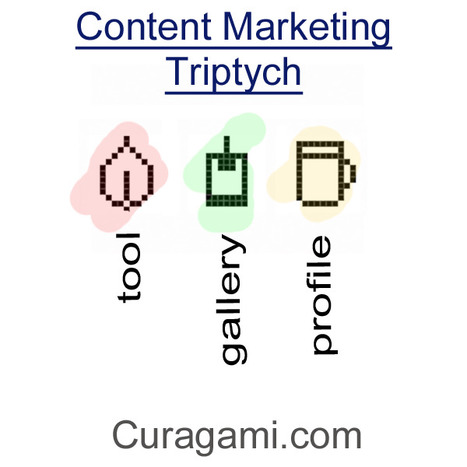 Content Marketing's Triptych
In the comments of this post an interesting conversation broke out with the Haiku Deck startup team. Haiku Deck helped me understand 2 legs of the content marketing triptych:

* Cool easy to use curation tool that mashes something of valuable up into something more valuable.
* Galleries where the gold of User Generated Content and fast feedback loops can be easily mined.

The third leg is:

* Creation of outward facing "MyAccount" pages that encourage, gamify and curate a customer's favorites, lists and original content.

You can see an example of the third piece in the puzzle on my Scoop.it "homepage": @Martin (Marty) Smith

The +1 Is you need one more tool to make the triptych work. You need a tool capable of finding your 1% Contributors, 9% Supporters and 90% Readers AND define them based on contextual trust. You can't form an appropriate ask if you don't know what your contributors and supporters love.

Curagami, the tool we are creating with Startup Factory funds, is THAT tool :).