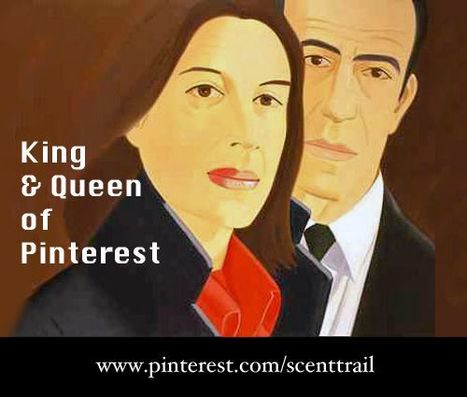 Pinterest Community Boards
Pinterest Community Boards are one of our favorite "get more, do less' tools. We've shared how setting up our King & Queen of Pinterest boards was a FLUKE.

Pinterest was frustrating. We could see GREAT curators especially great women content curators but we couldn't get anyone to follow. We created a contest asking for contestants to tell a story in 3 pins to win a prize for their charity. We received 3 entries.

Three GOOD entries, but OUCH. We paid off the winner we didn't know ans stiffed our friend Mark Traphagen (we will make it good...eventually :). Depressed we didn't want to LOOK AT Pinterest for a few weeks.

By the time we could look again a strange thing was happening. Membership in King and Queen was BLOWING UP or blowing up compared to what we were doing before. We remember our goal was to reach 1,000 followers. We stood at just over a hundred.

Now King and Queen have more than 8,000 folowers between then and over 500 pinners. We have more followers on Pinterest now than any other social net other than Scoop.it and for MUCH LESS WORK.

King
http://www.pinterest.com/scenttrail/king-of-pinterest/

Queen
http://www.pinterest.com/scenttrail/queen-of-pinterest/

Creating Pinterest community boards does take some attention to details such as:

* Publish "Rules of the Road" and PIN THEM.
* As Pinning Group Grows PIN Rules of the Road Again.
* Evolve Rules As Needed.
* Don't let Spammers get a foot in the door.
* Don't eliminate pins UNTIL Rules of the Road are shared.
* Don't Be VICIOUS about the Rules, be Flexible & Kind but not wimpy.

The key to any community is sharing the good and taking out the trash. Trolls will try to dominate and test any community. If spam runs rampant value goes down for everyone. How SPAMMING is a viable business strategy is a huge mystery, but someone will take advantage.

Some light curation keeps the community evolving and helpful for "members'. We use the rule of 3s. Violating Rules of the Road once can be an oversight. Twice is a test and Three Times is the TRUTH. We don't always WAIT until the third offense to remove a pinner, and we've removed less than 5.

Sometimes a pinner will be so aggressive a single infraction is sufficient (happened only once). Most pinners want an environment where it is easy to communicate, learn and share. A light curatorial hand assures members someone is watching and making sure trolls don't win and time spent contributing is valuable and likely to be repaid.

No way I'm an expert at this. Follow @Ally Greer from Scoop.it or @Kelly Hungerford & @Cendrine Marrouat - SocialMediaSlant.com from Paper.li for a few HEROIC community managers who've forgotten more than I will ever know about how to create, manage and reward online communities.
If you would like to pin to King or Queen of Pinterest tweet http://www.twitter.com/scenttrail your Pinterest handle and your Pinterest name and we will add you in with THANKS and curiosity about your pins :). Marty