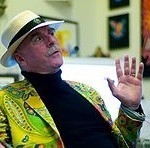 -What is curation to you?
Curation, like making a website, is an act of self-interest that enriches the commons and benefits everybody. I need to search, scan, and select the best resources I can find for my own personal interests, and by making my choices available to others, I create a resource for many besides myself. Curation is also a signal to others who share my interests, people I probably would not have known or known about otherwise, who, in turn, suggest resources to me. I feed the networks of people who do me the honor of valuing my choices, and they feed me back. It's about knowing, learning, sharing, and teaching, all in one.
-What is your best curating secret?
I have a number of persistent news searches on ...