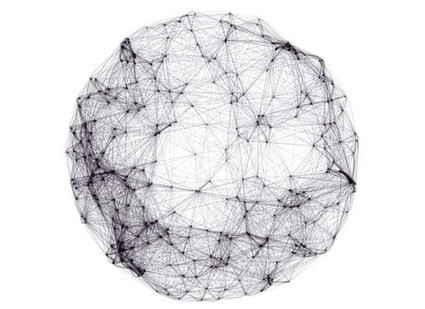 "It doesn't matter so much that you're made out of neurons and bones and muscles. Obviously, if we lose neurons in a stroke or in a degenerative disease like Alzheimer's, we lose consciousness. But in principle, what matters for consciousness is the fact that you have these incredibly complicated little machines, these little switching devices called nerve cells and synapses, and they're wired together in amazingly complicated ways. The Internet now already has a couple of billion nodes. Each node is a computer. Each one of these computers contains a couple of billion transistors, so it is in principle possible that the complexity of the Internet is such that it feels like something to be conscious. I mean, that's what it would be if the Internet as a whole has consciousness. Depending on the exact state of the transistors in the Internet, it might feel sad one day and happy another day, or whatever the equivalent is in Internet space. (...)
It's more difficult to ascertain what exactly it feels. But there's no question that in principle it could feel something. (...)
Q: How do you define consciousness?
Typically, it means having subjective states. (...) Consciousness is not easy to define, but don't worry too much about the definition. Otherwise, you get trapped in endless discussions about what exactly you mean. It's much more important to have a working definition, run with it, do experiments, and then modify it as necessary. (...)
I see a universe that's conducive to the formation of stable molecules and to life. And I do believe complexity is associated with consciousness. Therefore, we seem to live in a universe that's particularly conducive to the emergence of consciousness. That's why I call myself a "romantic reductionist."