Scoop.it!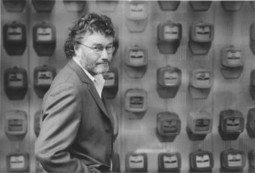 An interview with Iain M. Banks about THE HYDROGEN SONATA and the 25th Anniversary of the Culture series.
FastTFriend's insight:
The Culture is the ultimate utopia: an egalitarian, post-scarcity society, whose citizens want for nothing and do not fear illness or disease, instead being free to live lives of apparent luxury. Yet what power exists in the Culture is firmly in the hands of the Minds, which are artificial intelligences. To what extent are you suggesting that humankind could not achieve a utopia like that of the Culture without ceding control to machines? Is human nature too destructive and corruptible to ever achieve such a utopia otherwise?
In a sense I'm trying to pre-empt objections to the very idea of the Culture. Suggesting that beings much like us can achieve a functioning utopia as though it's part of our plausible, easily-envisaged future, our expected and plausible destiny, always seemed a bit wishy-washy to me; too much like just wish-fulfilment. Arguably we express as too inherently nasty, too prone to become violent, too prone to xenophobia and too easily en-mired in our noxious mythologies of false comfort and dubious exceptionalism for this to make sense (narrative, psychological or philosophical). Taking away the excuse that we need to be mean and selfish to others because, heck, there just ain't enough of everything to go around… well, that's one step, but I suspect that while it might be necessary to achieve a hi-tech utopia, it's not sufficient. The Minds – the Culture's high-level AIs – are the other part of the equation. The humans create them and enough of these god-like entities stick around to save us from ourselves. The children create the adults, and behave better as a result. I submit this is no more likely to be wrong than the idea that as soon as we create an AI it'll try to exterminate us is right – that's the us in it talking, if I can put it that way; that's our guilty conscience articulating. The final get-out is that in the end the mongrel Culture, though suspiciously human-like in so many ways, isn't us, so they might just be naturally nicer than we'd ever be in the same situation. Cos that's evolution, that is.
Anyway, one of the side-tracks of the Culture I'm thinking about exploring at some point is one of the parts of it where Minds don't get involved, and people run everything themselves; they'd have computers, I guess, but no Minds. Smart help without any of that concomitant but deeply annoying wisdom. I am not yet sure how this will go.
The tricky thing about claiming we'll ever create a utopian society is that our record up to this point is so lamentable: you can create something as close to utopia as technologically possible at any point in your development once you have a reliable surplus of food and goods; it's not about having rocket-belts, floating cities or even smart-alec drones, it's about having the shared urge, resolve and will to behave decently, altruistically and non-xenophobically towards your fellow human beings, whether your latest invention was the wheel, moveable type or an FTL drive. And in that respect – I humbly submit – we've been heading backwards quite rapidly over the last thirty years or so. It would be pleasant to believe that we're starting to pull up and out of our nose-dive into the morass of Greedism and Marketolatry that has characterised our civilisation for the last three decades, but frankly it's still too early to tell yet.