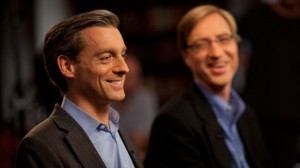 By BILL MOYERS &CO.,PBS. Originially aired 1/13/2102
Bill Moyers explores how America's vast inequality didn't just happen, it's been politically engineered.
From full transcript:
BILL MOYERS: This week on Moyers & Company.
PAUL PIERSON: I think a lot of people know that inequality has grown in the United States. But saying that inequality has grown doesn't begin to describe what's happened.
JACOB HACKER: It's not the haves versus the have-nots. It's the have-it-alls versus the rest of Americans.
BILL MOYERS: And…
LINNEA PALMER PATON: This is supposed to be a government run by the people and if our voices don't matter because we're not wealthy, that's really unacceptable and it's dangerous.
BILL MOYERS: Welcome. I'm glad we could get together again. I look forward to your company from week to week – here and online at BillMoyers.com. It's good to be back.
We begin with the question that haunts our time: Why, in a nation as rich as America, has the economy stopped working for people at large even as those at the top enjoy massive rewards?
The struggle of ordinary people for a decent living, for security, is as old as the republic, but it's taken on a new and urgent edge. Instead of shared prosperity our political system has now produced a winner-take-all economy.
[MORE]http://billmoyers.com/episode/on-winner-take-all-politics/