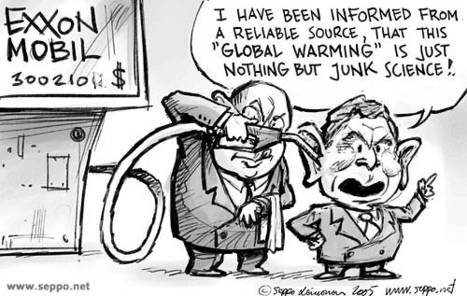 Eric Byler interviews Prof. Robert Proctor
about the
Pioneers of Science Denial and the
Human Cost of Misinformation
Thursday, Mar 15, 2012 - 5:30 pm Eastern Time (2:30 pm PT)
CLICK HERE to listen live | Call (646) 929-2495 to join the conversation
____________

by ERIC YAO, Coffee Party USA
A recent exposé of the corporate funded Heartland Institute's secret documents revealed an elaborate plan to purposefully manipulate K-12 curriculum, with efforts to inject doubt about climate change into young students and ensure that paralysis on clean energy technology and climate change legislation continues for another generation. This exemplifies how far some international profiteering interests will go to systematically misinform the American public.
The strategy of misinformation includes:
Assert there are many other causes of the problem
Claim there is no consensus among scientists
Downplay the validity of the science in any case
Setup lobbying organizations that masquerade as a research institutes
Inject polarization and misinformation into the national discourse using friends in elected office and in the One Percent Media
People fighting the One Percent agenda today may not realize this, but these tactics were pioneered by the tobacco industry. Sixty years ago, the tobacco industry began protecting its profits by penetrated academia, and undermining science in the very same way. Our guest on Thursday's special presentation of Coffee Party Radio will be Robert Proctor, Professor of History at Stanford University.
The tobacco industry's investment in elite lobbying institutions, powerful government officials, and pseudo-science has netted them billions in revenue. Meanwhile, cigarettes continue to kill over 400,000 Americans every year, and cost the nation some two hundred billion dollars in extra medical expenses and lost productivity.
Tobacco charted a business model that is today being followed by the oil industry and other polluting industries. There is profit in waging a war on science. Prof. Proctor will argue that the People of America today are faced with the biggest breach of academic integrity since the Nazi era, and he will tell us how we can respond. [MORE]