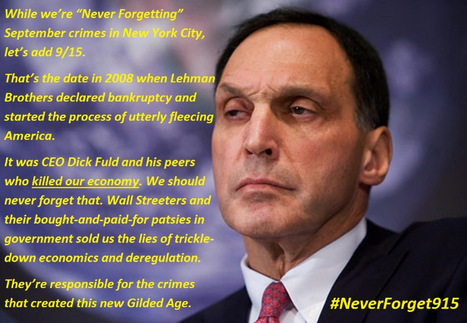 by Greg Russak
On this, the 5th anniversary of the bankruptcy of Lehman Brothers, Americans should take time to pause and remember this as yet another heinous crime of historic proportions perpetrated on Americans on a day in September.
It wasn't terrorists and it wasn't Main Street who killed our economy. No, this crime was perpetrated on us by a conspiracy forged between Big Money on Wall Street and Small (not Big!) Government politicians who carry their water and actually pass rules and laws that make the crime legal.
That means we're also to blame. Actually, it's not all of us who must share the blame.
MORE:
http://didyoucheckfirst.wordpress.com/2013/09/15/lets-neverforget915-and-the-lies-of-trickle-down-economics/