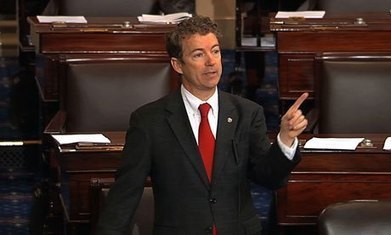 by GREG RUSSAK
Double standards are anathema to most Americans. This ought to be especially true when it comes to civil liberties, executive powers, and justice.
So where is the outrage from the Left and Democrats about drones and the executive powers born of Bush and being wielded still by Obama? We may no longer torture people, but Gitmo remains open and the President is choosing targets and authorizing the killing of American and non-American civilians.
To Liberals, Progressives, Democrats, and supporters of the president everywhere, Glenn Greenwald's piece in The Guardian last week, "Three Democratic myths used to demean the Paul filibuster", is especially for you. It will probably make you uncomfortable. It should.
If you identify yourself as a Conservative, Libertarian, Republican or some combination thereof, then I suspect that you'll enjoy and embrace Greenwald's article. On some level, you should. It has all the talking points you could want for calling out the Left's hypocrisy and double standards, at least on the issues of civil liberties and executive power. That is, of course, provided that you remain comfortable defending Bush and his administration for their atrocities and their violations of power and of the civil liberties conveyed on us by the Constitution. It was, after all, W and his administration who laid the foundation for your sworn mortal enemy, President Obama, now to be the one using – and even expanding – those executive powers.
Greenwald sheds truthful light on well-accepted Democratic values. He reveals the truths of a Democratic "empathy gap", liberal authoritarianism, and the distortions of AG Eric Holder's letter. He makes clear the case for why the attacks from the Left on Rand Paul for his criticisms of the president and his drone policy are partisan, disingenuous, and a glaring double standard by Democrats.
It comes down to this. One's outrage over the abuses of power is almost always a matter of convenience and political persuasion. [MORE]