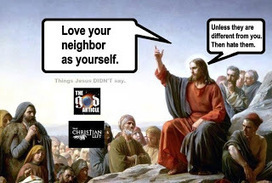 by GREG RUSSAK
A recent Facebook post by The Christian Left (image courtesy of that post), sparked some interesting discussion. Some people apparently saw this as a metaphor for Obama acting as a messiah while simultaneously dividing the country with his "class warfare" against the rich.
This whole idea of "class warfare" strikes me as being mostly an issue for wealthy conservatives. Even more curious is that it's become a rallying cry for middle class conservatives who feel compelled to rise to the defense of the wealthy and the threat they face from onerous government intervention and taxation.
Why is that?
Well, it seem to me that there's no denying that conservative (and GOP) media spokespersons like O'Reilly, Beck, Hannity, Coulter, and that whole crowd are intent on convincing us of the evils of government. Their rhetoric seems focused on protecting their benefactors while simultaneously serving their own greedy self interests by attracting as many eyeballs (and devotees) as possible. Nothing seems to work like some good old hyperbole (devoid to the degree possible of any facts) for riling up the uninformed and for driving wedges between all kinds of people. If it's not the fake (and worn out) War on Christmas, it's the new (and just as fake) Battle Royale between Takers and Makers.
(And before conservatives accuse me of bias, let me at least come clean and admit to mine. I am proud to call myself a progressive and a liberal. Yes, similar accusations can be made about the hyperbole from left wing personalities, too. However, and to my experience, at least they seem to be defending us little guys with their rhetoric. They don't try to scare us into siding with the wealthy in the hopes that someday the wealthy will shower us with generosity in the form of....what?....jobs at Walmart? Oh, and the so-called "liberal media" actually seem to care about and cite real science and actual facts. Bonus points in my book for that sort of behavior.)
Conservative spokespeople from Boehner and McConnell on down through Faux (sorry, Fox) News, The Drudge Report, and tea partiers everywhere would have us all believe that if we don't stop hating the wealthy and don't start supporting even more and more concessions - Boehner is actually proposing lowering the tax rates?!? - we're doomed. They seem to actually think - or more likely, want us to believe - that we in the middle class will actually witness a physical manifestation of the disappearance of "job creators" a la John Galt if the middle class comes on top in this so-called war of the classes.
In other words, if the middle class triumphs and taxes go up on the wealthy, the wealthy will retreat to points unknown while the rest of us are left standing around wondering from where our next hand out will appear. [MORE]