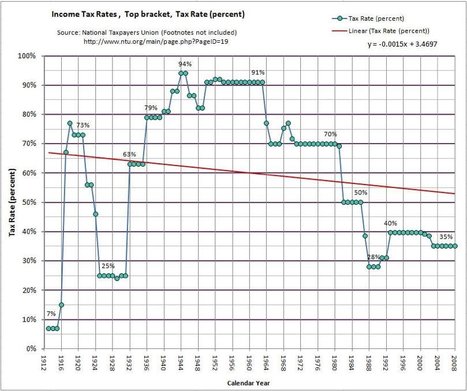 by Greg Russak
"And taxes stayed pretty much just that way for the next 15 years, until the early 1960s. Importantly, this was one of the most successful eras in US economic history. The middle class boomed, the economy boomed, and the stock market boomed. And all with the top marginal income tax rate over 90%. This suggests that the Republican mantra about high marginal tax rates killing the economy is, well, a bunch of crap."
Henry Blodget, "THE TRUTH ABOUT TAXES: Here's How High Today's Rates Really Are", Business Insider
Blodget is not the left's fool, errand boy, or mouthpiece. He spent time on Wall Street and attracted AG Spitzer's sufficient attention to necessitate a change to his career path that divested him from securities trading forever.
That said, when Blodget collects and presents facts about the economy and, in this case, tax rates, it's not as if we're getting the information from Ed Schultz or, for that matter, Glenn Beck.
Here's a tip for the holidays!
MORE:
http://didyoucheckfirst.wordpress.com/2013/11/09/taxing-truths-especially-for-conservatives/