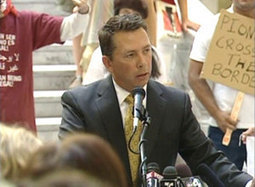 By AVIVA SHEN, Think Progress
When he was in the Utah Legislature, Stephen Sandstrom championed a "show your papers" law requiring local police to check the immigration status of suspects during felony stops, detention, or arrests. The law is similar to Arizona's infamous and now-defunct SB 1070, which required police to check the status of anyone stopped for any reason.
Sandstrom's law is now facing the scrutiny of a federal judge, who heard arguments last month. But, since lobbying hard for the law in 2011, Sandstrom now hopes the law is struck down. What's more, he's now a vocal supporter of the DREAM Act.