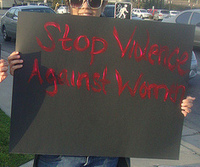 by ELEANOR SMEAL, Feminist Majority Foundation
For the eleventh #HERvotes blog carnival, we're joining together to urge the Reauthorization of the Violence Against Women Act (VAWA).
Domestic violence results in over two million injuries every year. Three women die every day in the United States as the result of domestic violence. Since the passage of VAWA in 1994, the rate of intimate partner violence has declined by 67%. VAWA provides services to victims of violence and has improved the criminal justice response to violence against women.
[MORE]