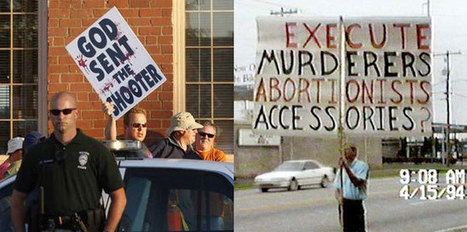 by ELLIE SANDMEYER, Media Matters
Just before the Supreme Court heard oral arguments over a law designed to protect workers and patients at women's health clinics, the Wall Street Journal ignored the history of murder and violence women have faced at the hands of anti-choice activists, instead claiming that the law's "sole purpose" was to criminalize "peaceful" protests.
On January 15, the Supreme Court will hear arguments in McCullen v. Coakley, a challenge which could invalidate a 2007 Massachusetts law that created 35-foot "buffer zones" around local reproductive health center entrances. The law was designed as a response to public safety concerns after patients and staff at Massachusetts clinics faced a pattern of intimidation, harassment, and extreme violence from protestors -- including a fatal shooting of two women.
The Wall Street Journal editorial board's January 14 preview of the Supreme Court arguments did not mention violence once. Instead, the editorial repeatedly characterized anti-choice protesters as "peaceful," framing the law as simply a "chance to advance free speech" and ignored the events leading up to the law's passage to claim that the "real purpose of the state's abortion buffer zones is to limit, and criminalize, peaceful political speech."
MORE