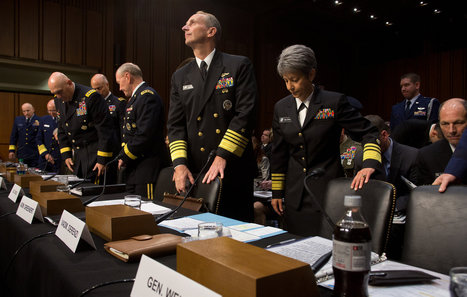 by JENNIFER STEINHAUER, New York Times
Senator Roy Blunt sat silently for nearly an hour as his colleagues on the Armed Services Committee questioned one military leader after another on Tuesday about what they were doing to address the problem of sexual assault in the military, and then assessed their responses: "Stunningly bad."

In particular, Mr. Blunt chided Adm. Jonathan W. Greenert, the chief of naval operations, for displaying scant knowledge of how military allies of the United States had dealt with sexual assault in their ranks, and for thanking Senator Jeanne Shaheen, Democrat of New Hampshire, for "the tip" that other countries had grappled with the issue.

"Has anybody who works for you been asking this?" Mr. Blunt, Republican of Missouri, asked with clear exasperation.

In a rare appearance together, a majority of the members of the Joint Chiefs of Staff — as well as the commandant of the Coast Guard and other military officials — testified before the committee about how the military should approach the problem as Congress prepares to vote on several measures that would significantly change military policy.
"Discipline is the heart of the military culture, and trust is its soul," said Senator Carl Levin, Democrat of Michigan and the chairman of the committee. "The plague of sexual assault erodes both the heart and the soul."

Senators from both parties pressed the leaders, at times using strong language, about why, decades after the full integration of women into the military, the problem seems to have worsened. Senator John McCain, an
Arizona Republican, recalled meeting with a woman whose daughter was considering entering the military if Mr. McCain, a former naval aviator, could offer his "unqualified support" of the choice. "I could not," he said. [MORE]
Via
Coffee Party USA