Scoop.it!
Prayers for Chief Theresa Spence.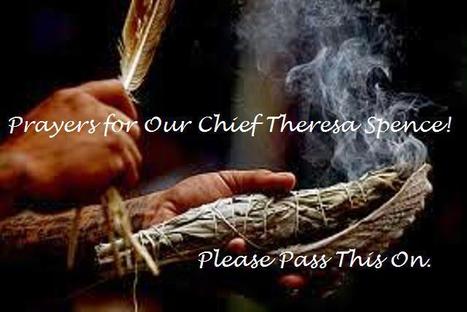 J'nene Solidarity Kay's insight:
Chief Theresa Spence, a Canadian aboriginal chief from the remote northern Ontario community of Attawapiskat has been fasting since December 11 and has vowed to continue until Canadian Prime Minister Stephen Harper personally commits to meet with Native leaders for talks on several complaints, including new legislation that will harm native lands. Spence is at the center of an unprecedented Canadian aboriginal protest movement called "Idle No More" that began with four women in the province of Saskatchewan raising awareness about the Conservative government's budget bill, which was passed earlier this month that scales back environmental protections for lakes and rivers and makes it easier to sell reserve lands. "Flash mob" protests with traditional dancing and drumming have erupted in dozens of shopping malls across North America. There have been rallies, marches and highway blockades by aboriginal groups across Canada and supporters have emerged from as far away as New Zealand and the Middle East. The campaign aims to draw attention to the dismal living conditions faced by many of the country's 1.2 million natives, including poverty, unsafe drinking water, inadequate housing, addiction and high suicide rates. Spence states that she has run out of patience. "I know it's hard for people to understand what I'm doing but it's for this pain that's been going on too long with our people.
"It has to stop and I'm willing to suffer until the meeting goes on. Even if I don't make it, people will continue my journey. Like I keep saying, I'm willing to die for the people of First Nations because the suffering is too much. Why are they so afraid to meet with us?" she said. In 2008 PM Harper formally apologized on behalf of Canada for having in the past forced 150,000 aboriginal children into residential schools, where many were abused.
Meanwhile, with the help of social media the Idle No More movement has taken on a life of its own in much the same way the first "Occupy Wall Street" camp gave birth to a multitude of "occupy" protests with no specific demand or leadership. "This has spread in ways that we wouldn't even have imagined," said Sheelah McLean, an instructor at the University of Saskatchewan who was one of the four women who originally coined the "Idle No More" slogan. "What this movement is supposed to do is build consciousness about the inequalities so that everyone is outraged about what is happening here in Canada. Every Canadian should be outraged."