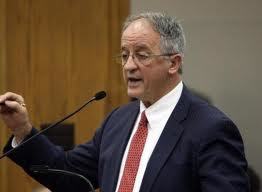 by WESLEY P. HESTER, Richmond Times-Dispatch
After a tumultuous legislative session earlier this year that put Virginia front-and-center in the so-called war against women, are social issues off the table for 2013?
Not if Del. Robert G. Marshall, R-Prince William, has anything to say about it.
head of the upcoming session that begins Jan. 9, Marshall has already filed legislation that would allow Virginia employers to opt out of contraception coverage in their health plans and another bill that would make it a felony for doctors to perform sex-selective abortions.
And then there is the matter of his returning "personhood" legislation, which would define life as beginning at conception. After a volatile Senate committee hearing last year, the divisive measure — which added to tempers already inflamed by legislation requiring ultrasounds before abortions — was continued to 2013.
[MORE]
[can you believe it? - jkl]